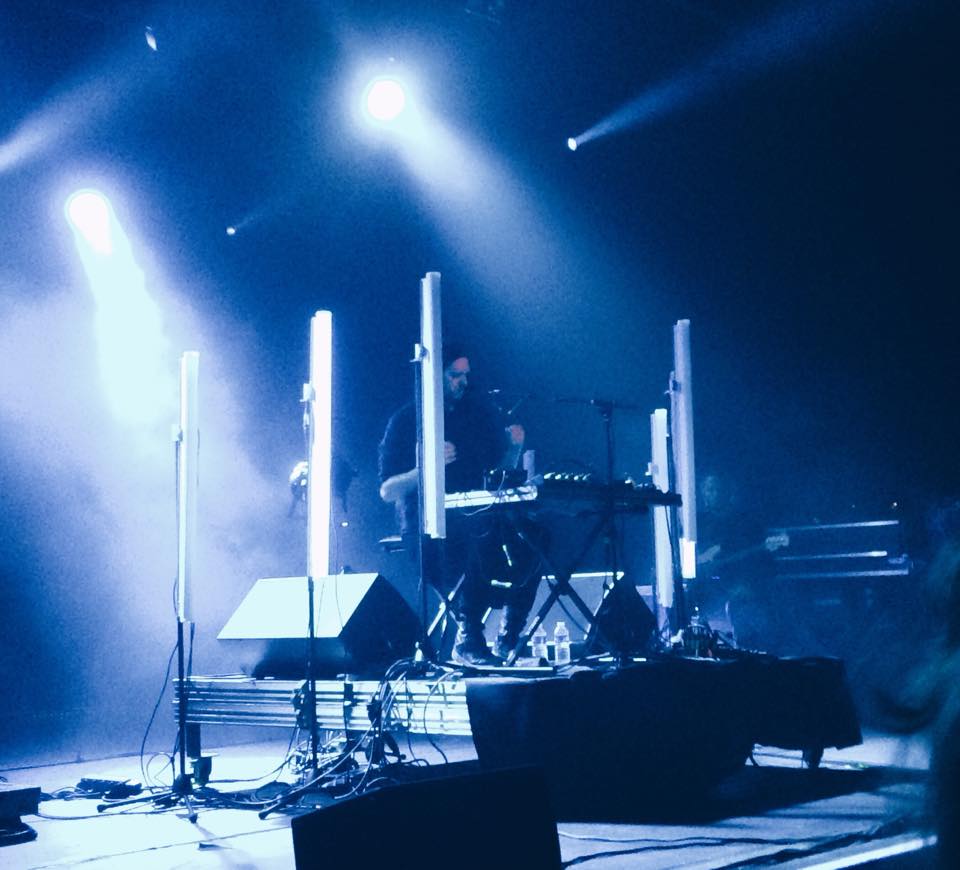 It's autumn, and though I am an absolute summer person, fall means the start of a new concert year. So I won't complain too much. Especially because I was able to kick off my concert year on the powerful electro beats of SOHN at Trix in Antwerp.
The in Vienne based musician behind this great electro revelation is named Christopher Taylor. And I couldn't have described him better as he does for himself on his Twitter: "English not Austrian, solo not a band. Also not a girl. Part-time Jesse Pinkman lookalike." Now you know.
Opening up for SOHN was Fyfe, a man you may know under the name of his previous project 'David's Lyre', or his real name 'Paul Dixon'. Somehow alike to the music of SOHN, Fyfe was a great opener of the evening. Completely hooked to his latest single 'For You'. Such a jam!
My first impression of SOHN's set was that that he sounded very much like he does on the album. At first I thought that was a bad thing: I could've stayed at home and listened to the album with the volume on very loud. But the longer I was in that venue, the more I realized that this guy was actually very talented. His work isn't like the usual sing-along music, and the way he was producing and singing his songs live up on that stage, was actually amazing.
Furthermore, the sound mixing and lighting of the evening was amazing. Props to the people in charge of that. The combination of the low bass, flashing lights and SOHN's music made the concert experience so intense in a way that you forgot you were surrounded by a thousand other people. Just you and the creator of the music, and a lot of flashing lights. Not recommended for epileptic people though, it might get a little too intense for them.
SOHN was wearing his signature hat and cape, which made him look a little like a preacher behind his altar of instruments. And his followers, also known as the crowd, were very much into what they heard: enthusiastic and cheerful but knew when to keep silent. A dream audience. The man of SOHN himself didn't interact much with the audience though, but it wasn't like I was actually missing that aspect. I was more interested in letting my feet move to the beat. Next song please!
About the setlist, not much to complain about that either. SOHN put together a very balanced set, with most songs from his debut album Tremors topped up with a couple songs from previous EP's and as well a new song, called The Chase. Highlights were songs like Bloodflows, Lessons, Artifice and title track Tremors. Encore song was The Wheel, saving the best for the last.
If you're into electronic music but still attach a lot of value to vocal qualities, SOHN is the man to see. His talent is able to make the floor AND your trousers shake in such a smooth way, and brings you a performance that is so intense you forget your troubles for a little while. It worked for me.
______________________
Live performance: 9
Setlist: 9
Interaction: 6
Crowd: 9
Total score: 8,5/10